The 3rd Norman Cutler Conference on South Asian Literature - April 27-28, 2012

Featuring Bangla Author Raghab Bandyopadhyay & Playwright Saymon Zakaria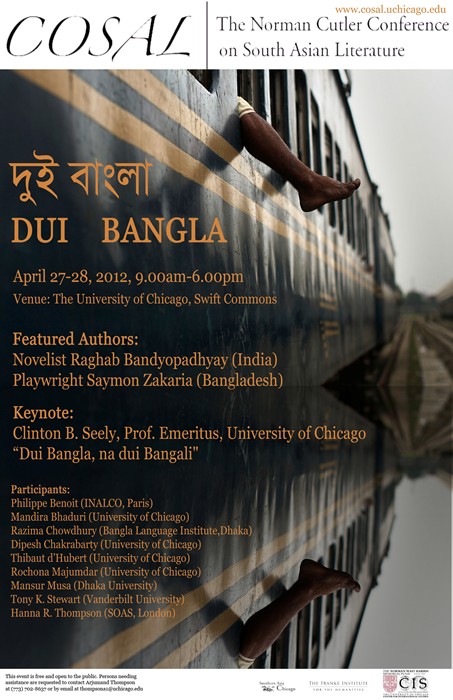 The Department of South Asian Languages and Civilizations at the University of Chicago is pleased to announce the Third Norman Cutler Conference on South Asian Literature (COSAL), featuring noted Bengali novelist Raghab Bandyopadhyay and playwright Saymon Zakaria.
Raghab Bandyopadhyay will discuss some of his works and talk about the creative usage of Bangla prose.
Saymon Zakaria will introduce us to his plays and talk about the continuum between traditional performances and contemporary theater in Bangladesh.
The underlying theme of the conference is "Dui Bangla" or Bangla as the language of the state of West Bengal and as the national language of Bangladesh. Struggles around the Bangla language--its origins, lexicon, texts, grammar, and pronunciation--played a critical role in the struggles that culminated in the creation of East Pakistan in 1947 and Bangladesh in 1971. Despite contestations, Bangla and the linguistic identity that grew out of sharing the same language plays a complex but understudied role in the imagination of Bengali people in India and Bangladesh. Bangla remains a central issue in the definition of the cultural, political and religious identities of the people living on both sides of the border. This conference is an exploration of this bicephalous literary culture: two heads that never stopped speaking to each other. The event brings together scholars who will discuss the various aspects of Bangla language and literature in India and Bangladesh and, more generally, the multifarious forms of Bangla language that reflects the complexity and heterogeneity of the cultural landscape of Bengal.
The keynote will be given by Clinton B. Seely, Professor Emeritus, department of South Asian Languages and Civilizations (SALC), the University of Chicago.
The 2012 COSAL is sponsored by the University of Chicago's Committee on Southern Asian Studies, the Franke Institute for the Humanities and the Norman Wait Harris Memorial Fund.