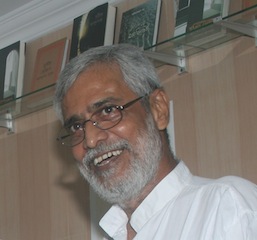 Raghab Bandyopadhyay was born on 14th November, 1948. Brought up in Kolkata, he came in touch with rural Bengal in the late sixties by virtue of his close association with the Naxal Movement. It was around this time that he started writing for little magazines. Following his arrest in 1970, Raghab spent three years as a prisoner of the State.
His years as a political activist and subsequently a political prisoner found expression in his debut novel "Komunis". The publication of "Komunis" met with extremely encouraging and enthusiastic response from intellectuals like Ranajit Guha (renowned historian and scholar), poet Shankha Ghosh, the late Ashok Rudra (eminent economist, social scientist and scholar) and Malini Bhattacharya (former Professor of English, Jadavpur University and former Director of School of Women's Studies). Subsequently the late seventies and early eighties saw the publication of some other literary works by Raghab such as a collection of short stories called "Baadaar Galpa" and his second novel "Shaishab". During this time Raghab also began his professional career as a journalist at the invitation of the editor of Aajkal, the late Gour Kishore Ghosh, a renowned author and journalist. Later, in the mid-eighties, he joined Anandabazar Patrika. Raghab's literary journey then continued alongside his professional career, yielding non-fiction stemming from his journalistic experience like "Anya Kolkata" and "Baanglaar Mukh" as well as fiction like "Angshagrahan", "Aashmaani Kathaa: Uchchheder panch Kahan", "Galpa 33", "Taahaaraa" and "Satik Jadunagar", all of which earned critical acclaim.
In a literary career spanning four decades Raghab has been somewhat less prolific than other contemporary Bengali writers, having written ten novels and over fifty short stories so far. Yet his literary corpus sparkles with creativity and variety, containing many experiments with narrative form and the use of language. Raghab's own political and journalistic experiences have had a profound impact on the themes of his literary works. We hear a chorus of many voices in his works, yet the dominant tone is unfailingly that of the displaced and marginalized. "Kathak", a Bengali little magazine, has published a special issue, dedicated to this unique author, which has contributions from eminent contemporary Bengali writers like Debesh Roy and Nabarun Bhattacharya as well as academicians/scholars such as Ashoke Sen, Sudhir Chakrabarty, Ranabir Lahiri and Swapan Chakrabarty.
---------------------------------------------------------- ------------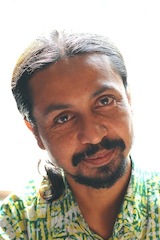 Saymon Zakaria was born on December 3, 1972 at the Jungli village under Kumarkhali Upazila of Kushtia district. In his professional life he works at the folklore department of Bangla Academy. As a scholar of Bangladeshi folklore, Saymon Zakaria has been able to introduce a distinct way of approaching cultural studies by observing the customs and traditions of Bangladesh for more than fifteen years. His book 'Pronomohi Bongomata (Ode to Bongo, the Mother)' has been published in five parts, which is an unparallel fieldwork-based book.

Among his original writings the Liberation War related play 'Shuru Kori Bhumir Naame (In the name of our land)' was published in 1997 from the young writers' project of Bangla Academy. Some of his plays were published in distinguished literary journals of Bangladesh and West Bengal. His dance-drama 'Hritu-Obhijan (The Journey of seasons)' was staged. His plays Kobi (Poet), Bidogdho Danar Projapoti (Metamorphosis), Molua and A New Testament of Romeo and Juliet were staged as a part of producing plays in the Honours and Masters exams of the department of Theatre and Music of Dhaka University and the department of Drama and Music of Rajshahi University. Besides, his plays Na Noyramoni, Binodini, Shuru Kori Bhumir Naame, Molua, Proggaparomita, Kobi and Sitar Agniporikkha were staged by Dhaka Theatre, Bodhon theatre (Kushtia), Shabdabali Group Theatre (Barishal), Shamakal Nattayachakra (Rajshahi), Ananda Nattaydal (Dhaka), Palakar (Dhaka) and Shadhana (Dhaka).
Several of his plays were recently published in his Natoksongroho Dhaka 2010). Recently his two creative and original novels: Ke Tahare Chinite Paare (Who can know him) and Poetry: Sodanander Sangsare (Being in the World of Eternal Bliss), were published. He is also the editor of the collection of the works of the playwright Selim Al Deen and the collection of poems of Farhad Mazhar.

The documentary 'Shottyer Gohine' (Truth on Beyond), made on his scripts and narration, was shown in film festivals of Italy, Australia, Korea, Brazil, Poland, Pakistan and many other countries. The documentary is about popular Islam and Boyatis in Bangladesh. His TV serial Arshinagar was aired on the Bangladesh Television. BBC World Service Trust made a documentary on his research and fieldwork. He won Kali o Kolom-HSBC young writers award 2008 and Pathom-alo best book award 1415 for his research-based book on `Bangladesher Lokonatok: Bishoy O Aangik-Baichitra (Folk-Theatre in Bangladesh: Variation of Content and Phenomenon) and Television Viewers Award 2004 as the best playwright of stage drama.

Saymon Zakaria also works as a team leader researcher of 'Action Plan for the Safeguarding of Baul Songs' project undertaken by UNESCO and Bangladesh Shilpakala Academy (Bangladesh Academy of Fine Arts).